413PB/Day Produced WW by Video Surveillance Cameras in 2013 – IHS
It will be 859PB in 2017.
How much data is in 413PB?
It's enough to fill 92.1 million single-sided, single-layer DVDs.
It's four times the amount of photo and video data stored on Facebook as of February 2012.
It is also equal to the information produced in just one day by all the new video surveillance cameras installed worldwide in 2013.
Global Forecast of Data Generated Daily
by Surveillance Cameras Shipped in a Year
(in petabytes)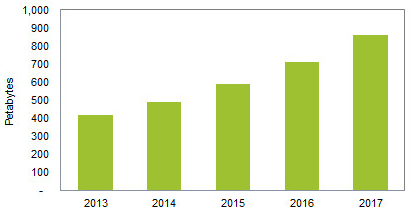 (Source: IHS Inc., October 2013)
The extraordinary deluge of data in the surveillance business is being triggered by a flood of new HD video cameras entering the market, according to the new report entitled Enterprise and IP Storage used for Video Surveillance from IHS Inc.www.ihs.com.