Atto Ships 12Gb ExpressSAS HBAs
ATTO Technology, Inc. announced its 12Gb ExpressSAS SAS/SATA HBA (HBA) began shipping on Friday, May 2.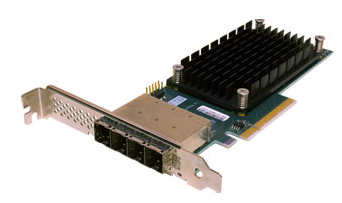 The latest addition to the ExpressSAS family, the 12Gb SAS/SATA HBA provides users with fast and reliable storage connectivity while enabling scalability for next generation platforms and infrastructures. Optimized for low latency and high-bandwidth data transfer, ATTO's variety of port configurations and RAID levels offer flexibility and reliability for demanding applications.
12Gb ExpressSAS HBAs offers 8 or 16 port configurations, providing up to 1,200MB/s per port. In addition, this product features ATTO's Advanced Data Streaming (ADS) technology. Built into every ATTO HBA and RAID controller, it delivers the best aggregate bandwidth and predictable data transfers for high performance applications.
ExpressSAS HBAs additional key features and benefits include:
- Cross-compatibility with existing 6Gb/3Gb storage enables users to improve performance while maximizing budget by retaining current infrastructure.
- Enhanced performance potential of both PCIe 3.0 and SSD technology increasingly being utilized for tiered solutions in Enterprise data centers.
- Built-in RAID-0/1/1e/10 to accelerate applications and protect data.
- Support for real-time editing of uncompressed 4K video.
- Certified for Windows and Linux applications and platforms.
- Existing certifications with over 20 partners covering all components within the ecosystem from workstations to servers through storage.