LTO-4 LTO-5 LTO-6 FH & HH
SKU: LTO FH and HH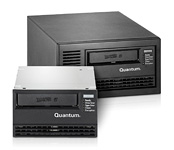 Key Features and Benefits

* Performance - Up to 160MB/sec native transfer rate
* Capacity - Up to 2.5TB (LTO-6) native capacity
* Security/Ease-of-Use - AES 256-bit data encryption security, WORM functionality, and partitioning capability.
* Compatibility - Investment protection with backward read/write compatibility to LTO-4 media and backward read compatibility to LTO-3 media

Overview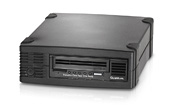 Quantum's LTO Full Height (FH) and Half Height (HH) tape drives deliver tremendous capacity and performance at an affordable price. In addition, it uses less power on average drives, making it a "greener" and more energy efficient solution.

The LTO-6 drive has a native capacity of up to 2.5TB and a native transfer rate of 160MB/sec. It uses the latest industry-standard interface—6 Gb/sec Serial Attached SCSI (SAS)—to allow for easy installation and integration into your data center. Quantum's LTO-5 FH/HH tape drives also protect your investment by providing backward read and write compatibility with LTO-5 media and backward read compatibility with LTO-4 media.

And with Quantum's LTO FH/HH drives, you can be assured of security with AES 256-bit data encryption. Encryption on LTO FH/HH tape drives is hardware based, allowing for the highest level of security without any loss of performance during the encryption process. In addition, LTO FH/HH is WORM capable when used with LTO WORM data cartridges. And the new partitioning functionality allows tape-aware file searches to address the growing needs of marketplace segments such as Rich media.

The kits (EY part number) include Symantec Backup Exec QuickStart software, data cartridge, cleaning cartridge and product documentation. Tabletop and rackmount kits also include an interface cable and power cord.