Infortrend presents EonStor DS 1000 Series for SMBs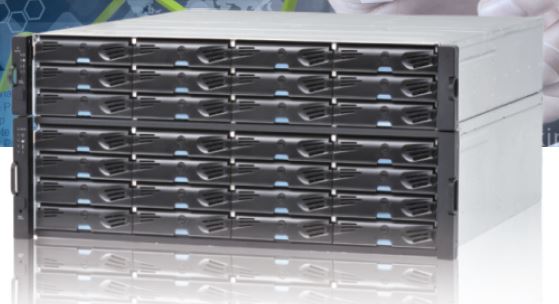 There are 12 and 16 bays available, 48 and 60 bays to come
Infortrend Technology Inc. announced EonStor DS 1000 RAID systems, which redefine entry-level storage with flexible hardware options and wide data service support.
They ensure data protection, featuring endurance super capacitors for non-stop stable operation over long product lifespans. The capacitors join a flash module and BBU (backup battery unit) to deliver high data availability and BC. For backup, users also get access to snapshot and volume copy/mirror plus optional secure remote replication.
They offer up to 380,000 IO/s, 5,500MB/s read throughput, and 1,900MB/s write throughput. They outperform previous storage generations such as the EonStor DS G6 series by a large margin. With their automated storage tiering feature, they can leverage SSD and boost storage utilization for even better performance.
The products offer diverse choices so SMBs can precision-tailor solutions to their budgets and needs rather than having to choose from preset configurations. Systems include onboard iSCSI and support hybrid interfaces for flexible connectivity. In addition to 1Gb/s or 10Gb/s iSCSI, users can select 8Gb/s or 16Gb/s FC or 6Gb SAS.
Virtualization
EonStor DS and EonNAS Systems Veeam Backup & Replication v7 Compatibility
Infortrend and Veeam have announced that a range of Infortrend storage systems now offer complete compatibility with all the features and advantages of Veeam Backup & Replication v7, the leading virtualization suite for VMWare and Hyper-V applications. This latest update joins the Infortrend efforts towards providing users with more virtualization capabilities, as businesses and enterprises increasingly switch to virtualized architectures. Compatibility also ensures reliable data backup, protection, and recovery performance, giving users more options and added safeguards to defend against harmful data loss.
Data recovery
Intelligent Drive Recovery Technology Goes Beyond RAID Protection
Infortrend Intelligent Drive Recovery, or IDR, is a proprietary technology that delivers enhanced media scan and data protection compared to standard RAID architecture, with faster disk rebuild times and no host impact. It actively observes stored data for possible errors, increasing fault tolerance and pre-empting drive failure by quickly relocating data away from bad sectors or rebuilding an entire volume using RAID spares. IDR uses a proactive and resource-efficient design that detects errors before they become a major issue, helping users avoid data loss and time-consuming rebuild.