Intel SSDs Using PCIe With NVMe Culminating at 2TB
Intel Corp. announced a line of SSDs utilizing PCIe with NVM Express (NVMe) technology for substantial performance gains over SATA SSDs and traditional HDDs.
The Intel SSD Data Center Family for PCIe meets the increasing needs for high-performance, consistent and reliable storage solutions in the data center while helping to lower TCO.
The family for PCIe includes: SSD DC P3700 Series for write-intensive applications, SSD DC P3600 Series for mixed workloads and SSD DC P3500 Series for read-heavy uses.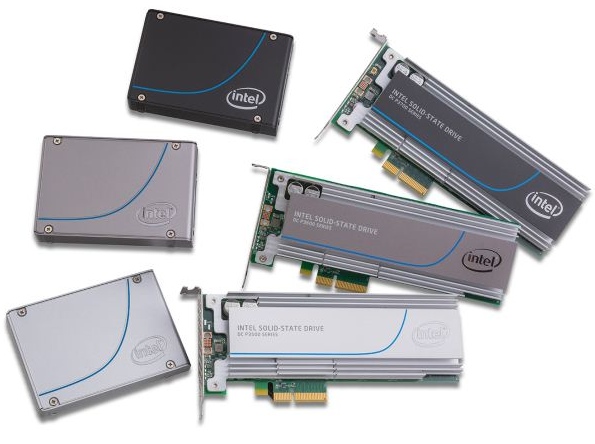 Overcoming Storage Bottlenecks
The family for PCIe uses the PCIe 3.0 specification and a new high-performance PCIe interface controller architected with NVMe. This technology unleashes consistent performance to overcome the toughest storage bottlenecks in the data center. NVMe technology was designed with PCIe-based SSDs in mind, eliminating much of the latency caused by legacy HDD interfaces.
NVMe 1.0 Industry Standard
The NVMe 1.0 specification, a new industry-standard storage interface protocol developed by the NVMHCI Work Group, defines a scalable architecture that unlocks the potential of PCIe interface SSDs. The standard was developed specifically for PCIe-interface SSDs and provides a substantial performance boost and reduction in latency. With a throughput improvement of up to 6x and reduced interface latency that can exceed 6Gb SATA SSDs, the SSD Data Center Family for PCIe increases processor utilization while scaling capacity and performance to meet demand.
Growing Storage Needs
The growing demand for information and services, especially by mobile Internet users, is driving an explosion in data, expanding databases, and massive computational and storage needs. The new family for PCIe was designed to respond to these needs with performance that improves processor utilization and scales to address performance and capacity needs. Higher throughput and reduced latency mean faster access to data and improved storage utilization of drives, lowering TCO.

Better Utilization of Compute Power
The family delivers data to the processor faster and with lower latency than SATA interfaces. PCIe with NVMe technology enables the processor to avoid waiting for data, allowing for better utilization of compute power through more consistently high throughput. Increased data throughput and reduced latencies mean faster access to data, better scalability, using fewer drives to deliver the same data throughput, and helping to lower TCO.

Data Throughput Improvements
The family takes advantage of Intel's third-generation controller and custom firmware, enabling data throughput improvements over traditional HDDs and other SSDs. Through NVMe-based PCIe, it delivers up to 2.8GB/s read speeds, up to 1.9GB/s write speeds (with the SSD DC P3700 Series), and up to 460,000 IO/s. The combination provides performance for random and mixed IT workloads.
Protection
With multiple check points, the family protects data, delivering stress-free storage. Power loss protection enables data in-flight to be saved in the event of a power loss. The drives also include integrated die parity protection (XOR).

Reliability
The drives are backed by 5-year limited warranty and have an average time between failures of two million hours, or more than 228 years. The P3700 Series offers 10 full-drive writes per day over the life of the drive, totaling 36PB, or 459 years of high-definition video. For less demanding sequential workloads, the P3600 Series delivers three drive writes per day, and the P3500 Series offers 0.3 drive writes per day. Each drive comes with an endurance manager for added reliability.
Compatibility
The family works with the NVMe drivers provided across OSs - including Windows and Linux - and with the latest Intel platforms, including the forthcoming server platform code-named Grantley.
Form Factors
The family will come in a small 2.5-inch form factor (SFF-8639) for hot-swappable front panel serviceability and an add-in card form factor for compatibility with existing PCIe-based systems.
Call us for pricing and availability!