Mellanox Multi-Host Technology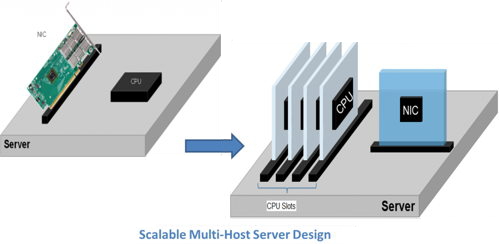 Mellanox Tech. announced Multi-Host, the technology that provides flexibility and savings in building next generation, scalable cloud, Web 2.0 and data centers.
This technology enables designing and building scale-out heterogeneous compute and storage racks with direct connectivity between compute elements, storage elements and the network, better power and performance management, while achieving maximum data processing and data transfer at minimum capital and operational expenses. The Multi-Host technology is available in the company's line of ConnectX-4 10/25/50/100 GbE adapters, and in OCP-based boards as part of Facebook's recently announced Yosemite platform.
The Multi-Host technology enables direct connectivity of multiple hosts to a single network controller, while keeping each host independent from the others. The hosts can be based on different CPU architecture (i.e. x86, Power, ARM etc.) and dedicated QoS and host management channels are guaranteed to each of the hosts. At the same time, the hosts share the same network interface thus saving on switch ports, cables, real estate and power.