Promise launched Thunderbolt 2 Enabled Pegasus2 and SANLink2 Arrays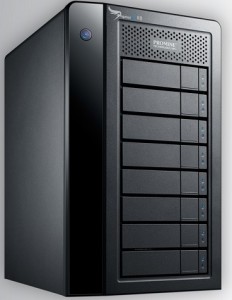 PROMISE Tech., Inc. announced Pegasus2 and SANLink2, storage solutions with Thunderbolt 2, the technology from Intel that delivers speeds of 20Gbps and allows for performance for creative workflows and 4K streaming and display environments.
The Pegasus2 line of hardware RAID solutions provides transfer speeds that accelerates and simplifies 4K workflows, offering RAID protection in a portable enclosure at maximum data transfer rates allowed through Thunderbolt 2.
SANLink2, a Thunderbolt 2 to 8Gb FC bridge, alleviates storage bottlenecks for desktop and portable computing systems by providing direct connectivity to an external FC SAN such as a VTrak x30 RAID storage system or a VTrak A-Class shared SAN filesystem for media video ingest and editing.
The company develops high-performance solutions and Thunderbolt enabled devices optimized for the video bandwidth requirements of the media and entertainment market. Thunderbolt 2 technology, the fastest PC I/O connection, has changed the industry by introducing capabilities and possibilities for content creators working with high-resolution files including HD, 3D, 2K, and 4K video. Running bi-directionally at 20Gbps - twice the 10Gbps bandwidth of Thunderbolt - Thunderbolt 2 is a technology for video creators and multimedia professionals allowing for simultaneous transfer and display of high-bandwidth 3D and 4K video files, which often requires 15Gbps.
Pegasus2 Highlights:
Supports maximum throughput allowed by Thunderbolt 2 interface
Supports simultaneous streaming, editing, and backup of 4K video
Dual Thunderbolt ports for daisy chaining
Hot-swappable drive bays for drive access and serviceability
Portable hardware RAID protection for offsite shoots
Massive storage capacity for backing up creative projects and digital libraries
Thunderbolt cable included
SANLink2 Highlights:
Enables FC connectivity on systems with a Thunderbolt 2 port
Dual 8Gbps FC Ports
Dual 20Gbps Thunderbolt 2 ports with DisplayPort and device daisy-chain support
Supports OS X and OS X Server
Supports Xsan and StorNext filesystems
Supports all VTrak storage subsystems (4 and 8 Gbps FC)
Thunderbolt cable included