Promise Pegasus2 External RAID-5 With Thunderbolt 2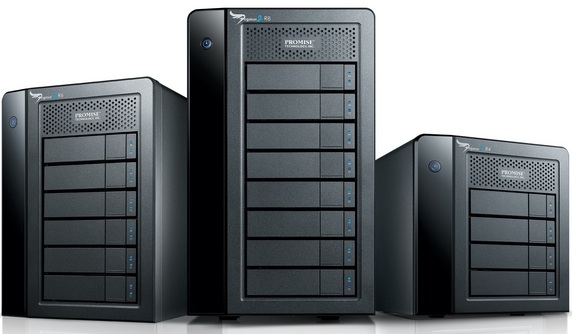 PROMISE Tech, Inc. announced the availability of Pegasus2, a storage solution designed to work with Thunderbolt 2 enabled systems such as the all-new Mac Pro, which is built for the creative experience of photographers, video professionals, power users, and more.
Thunderbolt 2 delivers 20Gbps of bandwidth, a game changer for content creators, allowing for simultaneous transfer and display of high-bandwidth 3D and 4K video files.
Pegasus2 maximizes the available line rate of Thunderbolt 2, providing fast throughput for remote site, on set, or remote office mobile storage in 4K rich media workflows, post-production or broadcasting.
The company develops high-performance solutions and Thunderbolt enabled devices optimized for the video bandwidth requirements in big data, rich media and the media and entertainment market.
Incorporating security, mobility, and the speed and versatility of Thunderbolt 2, Pegasus2 is an external RAID storage solution for marketing, advertising, or video-centric department that creates rich media video content such as training or commercials, and requires enterprise RAID protection.
Pegasus2 Highlights
- Maximum throughput of Thunderbolt 2 (20Gbps) accelerated when attached to new Mac Pro
- Supports simultaneous streaming, editing, and backup of 4K video
- Dual Thunderbolt ports for daisy chaining Pegasus enclosure units, Apple Thunderbolt displays, or Mini DisplayPort devices
- Removable drive bays for drive access and serviceability
- Mobile, enterprise hardware RAID protection for offsite shoots
- Massive storage capacity for backing up creative projects and digital libraries
- Thunderbolt cable included
The Pegasus2 Series is available as a 4-bay, 6-bay or 8-bay RAID.