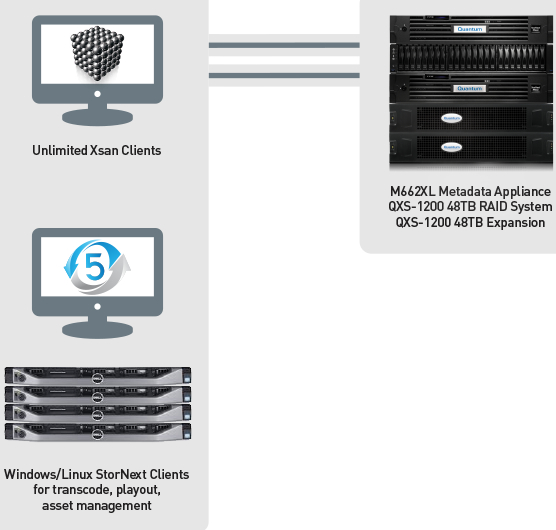 This integrated solution supports ingest, production, review and delivery along with different options for peta-scale content storage and access at any stage of the workflow - all in one system. By choosing StorNext Pro Workgroup with Quantum's Lattus object storage-based system, users can extend their online collaboration by shifting non-real-time workflow operations to Lattus - a protected, scalable storage infrastructure - with no negative impact on performance.
The StorNext Pro Workgroup solution includes a StorNext M662XL metadata appliance and StorNext QX-1200 high-performance storage arrays. Utilizing the power of StorNext 5 and - in the case of archive add-on options - included StorNext Storage Manager software, the solution enables teams of creative professionals to work directly on content with the tools of their choice and have content automatically migrated to the optimal storage, based on workflow stage, in a transparent, seamless fashion.
StorNext Pro Workgroup is a new addition to StorNext Pro Solutions line introduced earlier this year to provide customized storage system configurations for specific workflows, such as refreshing Xsan environments, supporting 4K production or enabling entire content lifecycle management for content owners. In addition, all StorNext Pro Solutions are supported by the new StorNext Connect management platform, providing simplified installation, discovery, management and monitoring of StorNext environments.