RONVER Systems: X3-NAS-Open-e with dual 8Gb FC and 10GbE certified by Open-e
We're very proud to announce that our first solution supporting dual 8Gb FC target is finally certified by Open-e.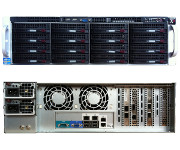 10GbE doesn't hold many secrets for us anymore... be it CIFS/NAS or iSCSI and replication or snapshotting...
But now we finally have our own system supporting high speed dual 8Gb FC connection in target mode.
Performance exceeds 700MB sustained (see report here) and wire speed on the quad GbE on the MOBO too...
The system is available for testing and certification with your software solutions so be quick to reserve your slot in the testing schedule.
The official press release will appear soon.
Ask us for pricing.
Buy here! : http://www.ronver.com/backup/x3-open-e-dssv7-storage-server-10gbe-8gb-fc