StorTrends 3500i SSD Array With Caching and Tiering
American Megatrends Inc. (AMI) announced its StorTrends 3500i SSD Array, a SAN combining SSD caching and SSD tiering into a storage appliance.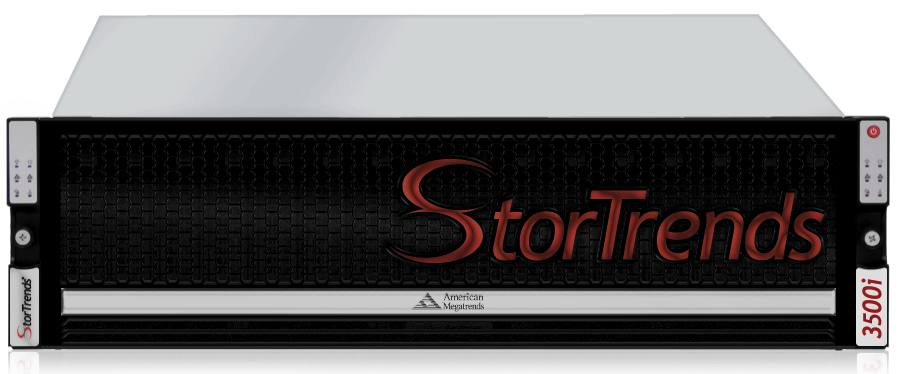 Optimized to support VMware, Hyper-V, Citrix and RHEV enterprises of all sizes, it is available as a hybrid or full flash array and delivers enterprise performance and reliability at an affordable price point.
The StorTrends 3500i SSD Array features an embedded storage architecture, StorTrends iTX, to offer an all-inclusive set of features including SSD Caching, SSD Tiering, Automatically Tiered Volumes (ATV), Automated Data Tiering, and replication with WAN optimization.
These features, together with the combination of SSD and HDD technology in a slim 3U configuration, deliver up to 56TB of raw storage capacity within the 3U and expansion capacity of up to 256TB. The SAN storage solution features hot-swappable dual controllers with active/active or active/passive HA and redundant, hot-swappable power supply units.
To flexibly support SSD growth to match the dynamics of business, the StorTrends 3500i enables both SSD cache and SSD tier upgrades. The scalable solution enables options to upgrade from 200GB SSD drives to 400GB, 800GB or 2,000GB SSDs without costly forklift upgrades. By running the free StorTrends iDATA tool, customers can identify how much flash is required to support their environment. The StorTrends iDATA tool analyzes capacity utilization, IO/s usage, reads vs. writes for volumes, network bandwidth, performance, server statistics and more to classify the amount of hot data and cold data required.
StorTrends 3500i SSD Array combines caching and tiering on the SSD drives to provide the following benefits:
- Enhanced SSD Endurance by leveraging both cache and tier for writes and reads avoiding burning the cells of the SSD drives
- Sustained Latency Reduction from 10ms to sub-3ms for the hybrid configuration to sub-1ms for the all-flash configuration
- Automated Tiering allows for promoting critical data to higher performance SSDs, while demoting data between tiers during off-peak times to maintain SSD space utilization
- Auto Balance Volumes with ATV Technology on the SSD tier as data access trends change between hot and cold to effectively feed applications and databases that need higher performance
- Growth Expansion for the SSD drives allowing for a simple upgrade path for cache and tier capacity growth avoiding forklift upgrades
The StorTrends 3500i SSD Array virtualizes SAN management via a web-based console to simplify SAN volume creation, expansion and deletion. Here, customers may manage datastores and VMs with ease and view overview data on the system's capacity, health and many SRM charts.
Available, the StorTrends 3500i SSD Array has an MSRP starting at $34,999. Solutions are offered with the StorAID support program which includes 24x7 technical phone support and next business day onsite replacement. The StorAID Plus Support Program adds four-hour on-site to the standard StorAID program.