Toshiba Builds Sample Units of Fast UHS-II microSD Memory Cards
Toshiba America Electronic Components, Inc. has introduced the 'world's fastest' (ss of April 16, 2014) microSD memory cards.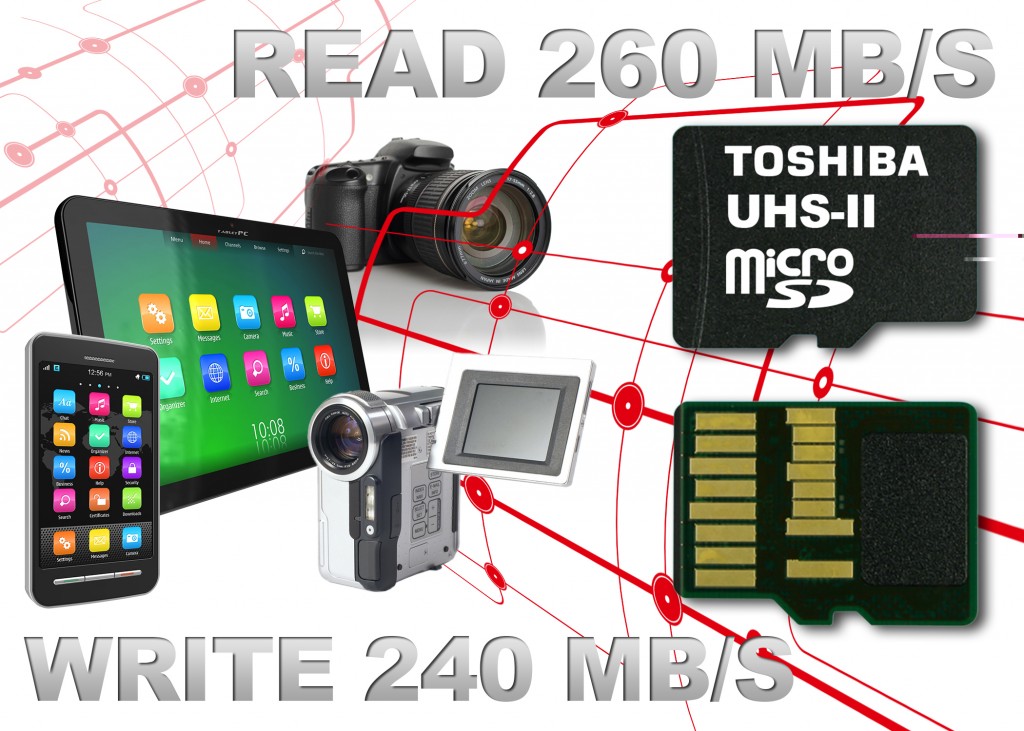 The cards comply with the UHS-II interface standard, the serial bus interface defined in the SD Memory Card Standard Ver. 4.20. UHS-II is the ultra high speed serial bus interface in SD Memory Card Standard Ver4.20 that delivers data at 156MB/s by single lane access and 312MB/s by dual lane access.
Available in 32GB and 64GB capacities, the microSD memory cards offer fast transfer rates, are UHS Speed Class 3 enabled, and allow high-quality 4K video capture at constant minimum write speeds of 30MB/s. This means that 4K2K video, live broadcast and content can be recorded on high-performance cameras.
The 64GB cards offer a maximum read speed of 260MB/s and a maximum write speed of 240MB/s. The 32GB cards have a maximum read speed of 145MB/s and maximum write speed of 130MB/s, which represents an 8x write speed improvement and 2.7x read speed improvement when compared to Toshiba's current 32GB microSD UHS-I cards. These transfer speeds reduce the time required to download data movie and music files to smartphones and tablets, and enable camera users to shoot high resolution digital still images in a continuous high speed shooting mode.
The company, inventor of flash memory, offers a selection of memory cards that can be used in a variety of applications including, smartphones, digital still and video cameras, audio players, tablets, and many other portable consumer electronics devices. The entire memory card line features cryptographic security and high-level copyright protection functions. Looking to the future, it will continue to meet market demands by enhancing its line-up of UHS-II compliant microSD memory cards.
Sample shipments for chipset vendors and set manufacturers of smart phones and other mobile devices are available.