Wireless SSD With 8 Hours Battery Life by Toshiba
Toshiba's Digital Products Division (DPD), a division of Toshiba America Information Systems, Inc. introduced the Canvio AeroMobile Wireless SSD, a product that offers a way to store, stream, and share files and media from mobile devices without attaching a cable.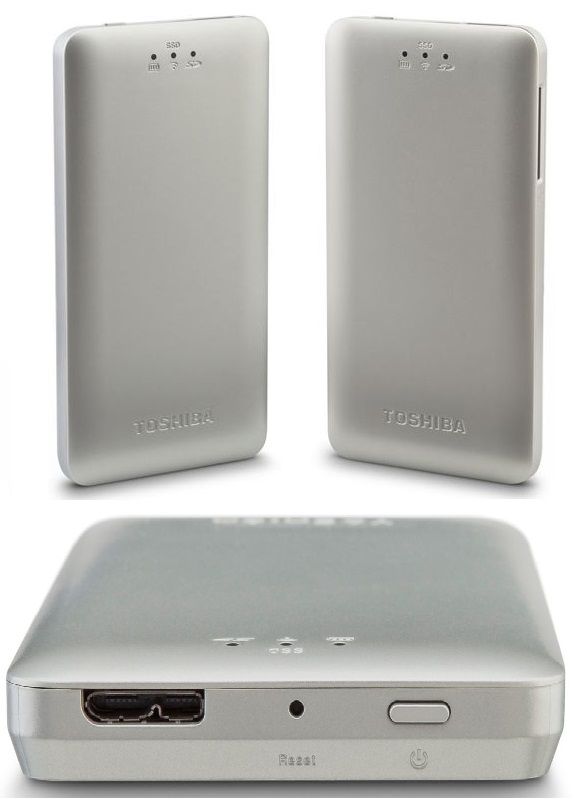 It combines the convenience and capacity of portable wireless storage with the durability and performance of SSD technology. This unit allows users to upload media, freeing their smartphones, tablets and cameras to take thousands of pictures and video. Up to eight devices including smartphones, laptops, tablets and PCs can access the SSD.
"Toshiba strives to ensure that all of our storage products are simple to use and powerful in this ever changing technological environment," said Maciek Brzeski, VP of product marketing and development, branded storage products, Toshiba. "The Canvio AeroMobile Wireless SSD makes the process of uploading and accessing content easier than ever."
The product uses solid state drive technology which also offers durability, performance and lower power consumption than external HDDs, resisting impact and vibration. It slips right into a pocket and is light, weighing in 4.2 ounces. Limited smartphone storage space is no longer a worry with this device, as there is 128GB of space within immediate reach. Users can use it indoors and out, knowing their data is safe and backed by Toshiba's one-year limited warranty.
It's an option for accessing content while on the road or camping, where there's no traditional Wi-Fi signal in sight. It features a built-in rechargeable battery with up to 8 hours of battery life for video streaming for extended times away from a power source. With the built-in SD card slot, you'll be able to offload photos and free up SD card space. Finally, an internet pass-through mode means browsing the web and accessing the SSD can be done simultaneously.